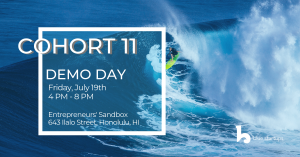 Spotlighting the Blue Startups Cohort 11 accelerator program participants, Demo Day is where these rising companies take the stage to engage with the entrepreneurial community. With the chance to pitch to an acclaimed panel of venture capitalists in the community, the startups showcase their progress. Both reviewing and celebrating the companies, investors get the chance to ask follow up questions and generate meaningful conversations around industry trends.
When: July 19th, 4:00 PM to 8:00 PM HST
Where: Entrepreneurs' Sandbox
RSVP: https://www.eventbrite.com/e/blue-startups-cohort-11-demo-day-tickets-60495505686
Ticket Includes:
– Admission to pitches
– Pupus and drinks
– Access to entrepreneur and investor marketplace
Guest Parking:
Entrepreneurs' Sandbox
– On-site adjacent parking on lot C – $6 flat rate
– Metered street parking
Salt At Our Kaka'ako
– Enter on Keawe Street to access multi-level parking structure
– $6 per hour
Cohort 11:
ChatENG
ChatENG connects remote US teachers to students in Asia to help them achieve true English fluency. They make this connection as real as possible by applying curated technology with an in-house curriculum. Virtual classrooms, virtually anywhere.
Cruisio
A Cleantech Autotech that utilizes software to dramatically improve the efficiency of engines. CruisiO makes an aftermarket device that trucking companies attach to their gas pedals to smooth performance saving them hundreds of thousands of dollars in fuel costs.
DriVR AI
Using smartphones and automotive-grade hardware, DRiVR uses vision and sensor fusion to create sophisticated safe driving tools that detect, record, and warn drivers of real-time road hazards.
Instant Teams
The future of work is remote and Instant Teams is creating the #1 online platform for remote workforces. Our remote team creation and management software enables companies to scale remote teams through unique untapped talent funnels of military professionals while automating the compliance, time tracking, and payroll.
Mintrics
Mintrics helps video publishers double their viewership by leveraging millions of data points collected from unique industry and competitor sources.
Junction AI
Junction AI's platform empowers clients to quickly and easily predict the success of their marketing so they can optimize conversions and eliminate costly failures. Junction AI empowers brands to quickly and easily predict the success of their advertising images and text to dramatically improve ROI and eliminate costly failures.
Via
Via is a customer engagement platform that helps local businesses interact with their customers on the devices and the networks they use most often. Via helps businesses get found, get chosen and get engagement online. Via equips businesses with the tools to compete in the digital-first and mobile-first era.