Startup accelerators, now fixtures of the tech community, were hard to find just a few years ago.
When researchers Yael Hochberg and Susan Cohen began researching accelerators in 2010 and 2011, they could hardly find 10 true programs to rank. On Tuesday, Hochberg and Cohen released their latest annual rankings of U.S. seed accelerators: culling a top 20 out of now more than 200 programs that claim to nurture young tech startups.
The 2015 list puts AngelPad, a San Francisco-based accelerator, at the top. MuckerLab in Los Angeles ranks second overall, and multi-city program Techstars sits in third. (See full ranking at bottom.)
The rankings project sifts through confidential data from the generations of startups to go through such programs, identifying averages across five important factors: fundraising, valuations, exits, survival rate, and alumni satisfaction. Each factor is weighted for the approximately 70 accelerators that supplied data out of the 150 accelerators who met all of Hochberg and Cohen's criteria. Accelerators have to be fixed-term, cohort-based programs with significant educational and mentorship programs that culminate in a demo day.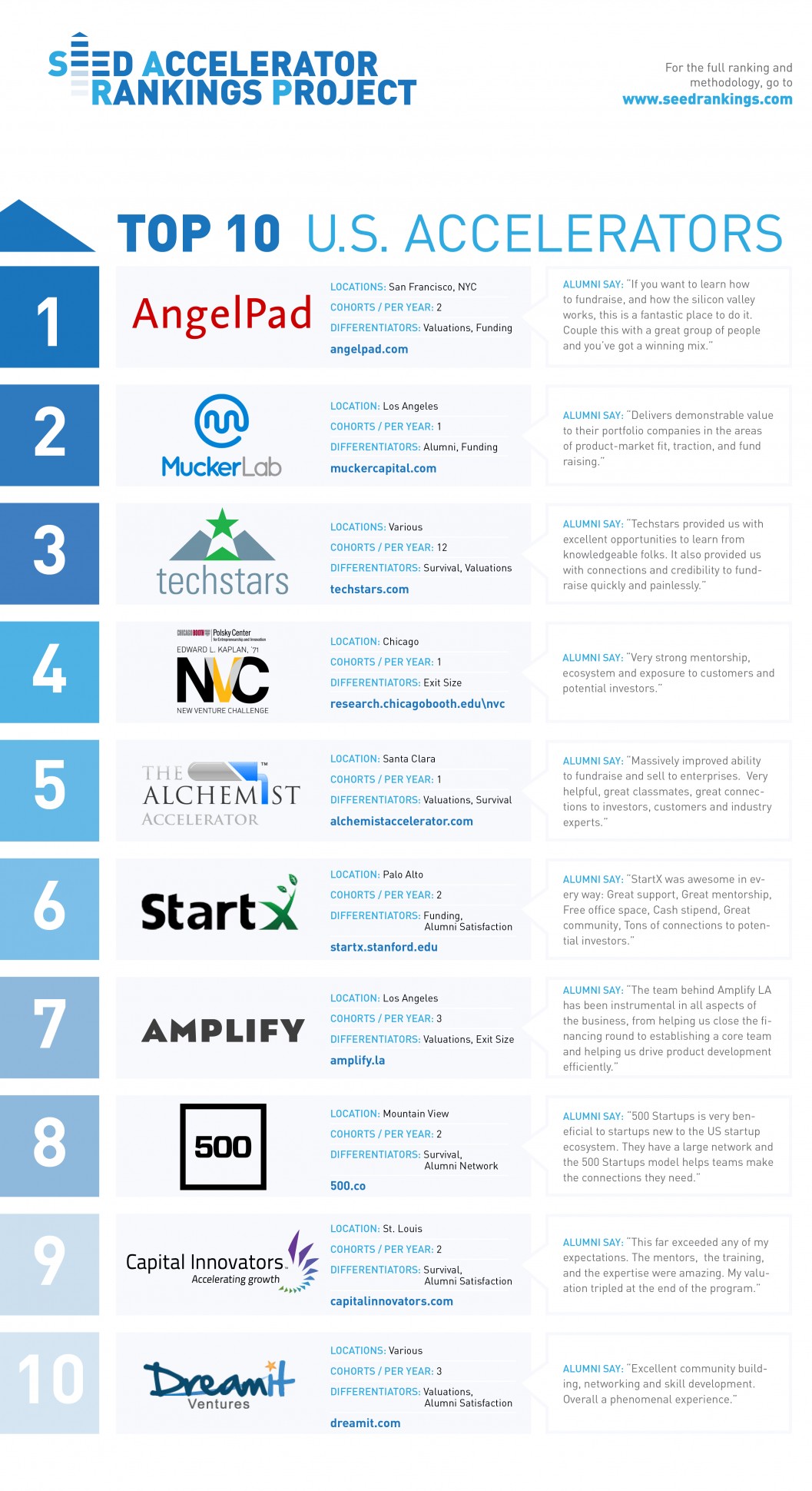 Seed accelerator startup rankings top 10
Those strict criteria kept out one notable program: Y Combinator, which ranked #1 in 2014. Hochberg and Cohen note that Y Combinator, a pioneer whose graduates have included Dropbox, Airbnb, and Reddit, has "evolved" its model into that of a hands-off seed fund.
"Y Combinator is cashing in on the name it made for itself," says Hochberg. "They're talking about raising a multi-billion dollar late stage fund to take advantage of their model that selects great entrepreneurs rather than mold them."
Other accelerators that remain on the rankings are more hands-on than Y Combinator, which by metrics alone would have ranked first again this year. Some entrepreneurs enjoy the relative freedom the program offers, versus highly structured programs elsewhere.
While accelerators have branched out from Silicon Valley on their own, part of the explosion has come from corporate and university-sponsored programs. Hochberg says those two groups especially "have grown like wildfire." For the first time, a school-based accelerator made the top of the rankings — University of Chicago's New Venture Challenge placed 4th.
Some new accelerators are misguided attempts to make a quick buck. "Some people get mad when we ask why they want to start accelerators," says Cohen. "They think it should be obvious: to make money. But there's no evidence you're going to make any money."
Only 2% of companies emerging from the top 20 accelerators have a successful exit yet. Even picking the best companies, big exits can take up to 10 years–and during that time programs will have to continue funding new cohorts of startups, at a cost of a few hundred thousand dollars a year.
According to the data, the best accelerators aren't founded by those looking to make a financial return, but by those who have already made money and want to give back to the startup community. Hochberg's research shows that a successful accelerator can provide a big boost to an underserved area, doubling funding events and increasing early stage capital in the region by 13x. She calls it a "gravity well" that pulls in entrepreneurs, venture capitalists and mentors.
"If you're a young entrepreneur wannabe and you have no idea how to be one, and you're in a region with no role model–you're going to go work at Microsoft of Google," says Hochberg. "But if you can work with 30 other founders in a mentorship environment, you have a chance of starting something."
Below is the full list of the top 20 accelerator programs this year:
AngelPad
MuckerLab
Techstars
University of Chicago New Venture Challenge
Alchemist
StartX
Amplify.LA
500 Startups
Capital Innovators
Dreamit
Surge
MassChallenge
The Brandery
Gener8tor
ZeroTo510
AlphaLab
Blue Startups
ERA
Betaspring
The Iron Yard
Forbes article written by Brian Solomon for more:
http://www.forbes.com/sites/briansolomon/2015/03/17/the-best-startup-accelerators-of-2015-powering-a-tech-boom/