Tech startups look to the energy industry and the military for the biggest rewards. – By Melissa Thompson
Startups change the world. Take the United States of America for example; about 250 years ago the budding nation was a startup and today it is a world leader. At the core of our culture and economy is entrepreneurship and innovation. Over time, centers of innovation have experienced geographic and industry shifts based on the needs and resources of the economy. Innovation is this country's lifeblood, from its roots in the agricultural revolution to the industrial revolution and, subsequently, the exponential technology growth that led to the technology and Internet revolution.
In this current state of digital transformation, information moves instantaneously. The cost of technology is falling and global barriers are shrinking. With proper allocation, the resources available today, paired with entrepreneurial drive, will allow startups to tackle big problems. Why choose to solve big problems when trending mobile apps (created in a weekend) can achieve instant success by the Silicon Valley-standard of eight-digit valuations and multi-million dollar capital infusions? Mobile apps like Yo, which has the singular function of allowing users to send an audible message of the eponymous "Yo" to a contact, enjoy the short-term gratification of buzz-worthy headlines. However, it is unlikely that the Yo app or its cool factor will leave an indelible mark on the world.
The solutions that will prove beneficial for societies will likely come from startups, not from big corporations stunted by risk aversion and officious bureaucracies. The products, technologies and innovations that result from entrepreneurial passion for problem solving will require investments on many levels: commitment from local small businesses, larger corporations, academic and research institutions, government entities, individuals and institutions with access to capital and a robust community of entrepreneurs.
In Hawai'i, technology startups span the gamut of sectors, from energy to hardware to educational software. Startup Paradise is Hawai'i's startup ecosystem, which is comprised of startup companies, entrepreneurs and resources. As its components coalesce, Startup Paradise's culture and startups grow stronger. Most entrepreneurs in Startup Paradise made a cognizant decision to launch their businesses from Hawai'i, as opposed to the capital-rich Silicon Valley, the marketing, media and money-flurry in New York or the influential and research-oriented hub in Washington DC. These brave entrepreneurs are reminiscent of starry-eyed astronauts, pre-1969, floating in the height of innovation due to the Space Race. In advance of the Apollo 11 mission to the moon, astronaut Neil Armstrong said, "I think we're going to the moon because it's in the nature of the human being to face challenges. It's by the nature of his deep inner soul. We're required to do these things just as salmon swim upstream."
For the fortunate founders of businesses in Startup Paradise, they recognize the potential of Hawai'i as a smart locale to grow their businesses. It is not an ecosystem that is without its challenges. Nevertheless, for those dreamers, makers and innovators with ideas, fortitude and heart, Hawai'i is burgeoning startup hub with unique resources available to make entrepreneurial dreams reality.
Startup Ecosystem
How do you turn an idea into a business? Where do you find the resources? Is Hawai'i the right place to start a company? Famed tech entrepreneur and venture capitalist Reid Hoffman answers these questions best, particularly when taken in the context of Hawai'i. "The entrepreneurial journey starts with jumping off a cliff and assembling an airplane on the way down," says Hoffman.
By Hoffman's logic, one might say entrepreneurs in Hawai'i have an advantage in their mindsets. Hawai'i's cliffs are plentiful. While taking that plunge is the first step, plane assembly, however, requires expertise, support and resources. The ability of Hawai'i's ecosystem to support an entrepreneur in his/her conquest is still in its early phase of growth.
Navigation is possible, but success requires creativity and perseverance. "Hawai'i's startup ecosystem is young and growing," explains Dawn Lippert, a director at the energy innovation hub Energy Excelerator. "I think the key is that this is a long-term process. Communities and cultures are not built overnight and startup communities are no exception. We have phenomenal advisors helping us, but it's ultimately the responsibility of those of us who live here to develop this ecosystem. It's a lot like a child—raising a child to become a healthy adult requires patience, caring and a broader 'ohana encouraging her along."
While Hawai'i's location can be a double-edged sword, local entrepreneurs see the remote location as a competitive advantage. There are two prevalent schools of thought amongst startups in terms of product development. One is Eric Ries' Lean Startup approach, which encourages startups to develop their products and get to market as quickly as possible. This method encourages founders and developers to gather user feedback, then iterate their product, test it again and repeat.
Dr. Rob Yonover, scientist, entrepreneur, Blue Startups accelerator alum and author of Hardcore Inventing: Invent, Protect, Promote, and Profit from Inventions, expressed appreciation for Hawai'i's diversity as a means for testing and improving his inventions. "Hawai'i is the perfect laboratory," he says. "We have mountains, oceans, rough water and calm water. We have all sorts of people doing all sorts of things. We have tourists—a whole flush in of people everyday—so you can test things out on people and all of the multiethnic cultures here. This is absolutely the best laboratory in the world."
Another school of thought is that startups need to focus and limit distractions. CEO Alex Tiller of Autowatts, an energy startup, firmly sits in this camp. "Hawai'i is geographically positioned out of the line of sight of would-be-competitors, so it was easy to run beta testing and even show it to the public to get feedback, all without tipping our hand to the whole mainland. It's a good controlled test environment because there is little variability due to weather," he says.
Competitive Advantages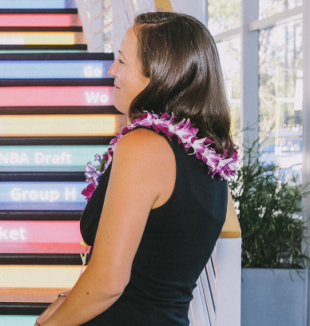 Starting a company takes guts, imagination and a resource ecosystem to support entrepreneurs and their ideas. Hawai'i proves strong in sector-specific resources for energy and defense-related industries, but for others still lacks the technology talent needs or capital required to foster sustainable, scalable ventures. According to the Kauffman Index of Entrepreneurial Activity, Hawai'i ranks in the upper third of states for entrepreneurship, with a 0.34 percent entrepreneurial rate per capita of those employed. Despite the state's predilection for entrepreneurship, the National Venture Capital Association's 2014 third quarter data shows that Hawaiian ventures only received 0.003 percent of the private capital invested nationwide. These ventures represented 0.14 percent of total financing deals. This translates to entrepreneurs in Hawai'i facing a capital access challenge in an already difficult fundraising environment and reaping smaller deal sizes than their mainland counterparts.
Entrepreneurs need to strategically navigate the financial road to success and Hawai'i offers unique opportunities that translate into competitive advantages for many companies. One of Hawai'i's strongest assets is its accelerator system with two organizations leading the pack. The Energy Excelerator has strong military, corporate and utility partnerships, helping seed and growth-stage startups build businesses focused on energy innovation. Blue Startups is Hawai'i's first venture accelerator and a member of the Global Accelerator Network. Founded by local startup supporter and innovator Henk Rogers, Blue Startups invests and provides hands-on mentorship to capital-efficient and scalable-technology companies with sector focuses on Internet, software, mobile, gaming and e-commerce. It also has a mentor-drive accelerator model and networks that extend to Asia and Silicon Valley. These programs help entrepreneurs integrate their business into Hawai'i, foster introductions, assist in setting up distribution and partnerships, as well as support entrepreneurs to secure funding.
Scott Cooney, founder of Pono Home, a home service that fosters convenient, in-home sustainability solutions, touts the value of local accelerators. "Initiatives like the Energy Excelerator and Blue Startups are a huge blessing," says Cooney. "They are helping entrepreneurs succeed. Without incubators like this, it's a lot more daunting."
Mainland startups also recognize the opportunities afforded by the Hawai'i accelerator system. Claire Tramm, founder of Effortless Energy, started her company in Chicago, but relocated to participate in Energy Excelerator's program. "Like any place, it's best to go in with a warm introduction and a sense that you've been vetted by smart people locally," says Tramm, who praises the program on their support in integrating startup transplants into the local community. "As a company that started in Chicago and hadn't done business in Hawai'i before, it's been tremendously helpful for us to come to Hawai'i through the Energy Excelerator program and we've benefitted enormously from all the introductions they've made on our behalf."
"I think the key is that this is a long-term process. Communities and cultures are not built overnight and startup communities are no exception."
Recognizing the need for a more robust support system for the earliest stage startups, XLR8UH at the University of Hawai'i is a new initiative and Hawai'i's first proof-of-concept center. Currently selecting its first class of participants, XLR8UH will help entrepreneurs hasten the process to commercialize their innovations.
Great innovation stems from great need. Hawai'i's needs translate into opportunities for entrepreneurs, particularly in the energy technology sector, as well as innovations that have dual use for military and defense. Hawai'i, which has the most expensive energy prices in the country, is a preeminent environment in which to explore alternative energy solutions. Nationwide, energy only accounted for 1.9 percent of angel investment dollars. To put this figure in perspective, the healthcare sector received over 28 percent of angel investments and mobile startups accounted for 16.1 percent of investment, according to the 2013 Halo Report. Nevertheless, the energy sector is a main focus of local startups, representing a disproportionately high number of ventures.
The United States military presence in the state offers substantial opportunities and competitive advantages for local innovators, even for startups with earlier-stage technologies. In a February 2014 speech, U.S. Secretary of Defense, The Honorable Chuck Hagel, stressed that technological innovation was a priority for the military, saying, "We must now adapt and innovate…to ensure that our military remains ready and capable."
Technology Domain Awareness is an emerging initiative of the Information Analysis Centers, authored and inspired by Director of the Department of Defense Information Analysis Centers, Christopher Zember. In an interview with Federal News Radio, Zember explains the genesis of Technology Domain Awareness: "The question is how can the Department of Defense effectively acquire military capability in markets that really are not tailored to its needs? With Technology DomainAwareness, what we are looking at is gaining an effective understanding of the technology landscape as it relates to current and future defense capability needs."
The goal of Technology Domain Awareness is to bridge the gap between the commercial marketplace and the traditional Department of Defense acquisition system. Often, startups create technologies without defense-related applications in mind, but there may be untapped potential for dual-use. The military's growing focus on commercial collaborations will provide growth opportunities and support for innovators to explore military applications. The Technology Domain Awareness website highlights select areas of focus in which there may be opportunities for collaboration and provides contact information should a company or individual recognize a synergy between their innovation and a focus area for defense.

Creative Communities
In his book, Startup Communities, startup pioneer and investor Brad Feld stressed the importance of the role academic centers as feeders to the startup ecosystem. Universities provide students with a higher-thanaverage appetite for risk, a fresh perspective and an infusion of new blood into the entrepreneurial community.
Many professors, Feld writes, consider themselves entrepreneurs, often in a context related to their own research. The academic community most often will act as a resource or partner to a startup. Robert Olivier, founder and CEO of Prota Culture, echoed Feld's sentiments. "When addressing some of the chronic issues facing Hawaiian industries, it's important to have the right partners that can bring about that change. Intellectual capital support from the University of Hawai'i at Manoa has been immensely valuable."
Research institutes play a role in the equation for startup success and have afforded startups opportunities that would be difficult to obtain with their own constrained resources. Olivier, whose startup is based at the Oceanic Institute, adds, "Access to the right technical expertise and pilot scale equipment is pivotal. Institutions like the Oceanic Institute allow us to do small production runs, without sending samples to the mainland for analysis or purchasing expensive equipment."
Community is another key component of a thriving tech startup ecosystem. Enter The Box Jelly—startup-central and a community hub for local entrepreneurs. This popular co-working space, founded by Rechung Fujihira and Tony Stanford, is a regular host of startup workshops and entrepreneur-focused events aimed to support the startup community and founders from the idea phase through thriving businesses.
The resources for early concepts and technology innovation are not limited to the office. Honolulu New Tech is just one example. This quarterly pitch event provides a less formal setting for aspiring entrepreneurs to pitch their business ideas without the stress associated with the often hyped-up "Demo Day."
Entrepreneurs are the force that leads startup hubs to success and Hawai'i's tech entrepreneurs are certainly passionate. Blue Startups applications rose 66 percent between their first and third cohorts. Blue Startups' Program Director Meli James comments, "The great thing is more and more local entrepreneurs are applying and learning about Blue Startups as a resource." Energy Excelerator has seen a fivefold increase in applications from the program's inception to its most recent class, with applications from 30 states and 11 countries. Thinking ahead, 85 percent of companies amongst the most recent class' applications raised outside capital before the program, a reflection of the growth in quality and viability of the Energy Excelerator companies as well as the mounting competition.
While technology talent and capital are still underdeveloped, there are still incredible opportunities for innovation in Hawai'i given its unique resource landscape. Blue Startups aims to ramp up those opportunities. Meli James expresses her aim to ramp up those opportunities, "We have a lot of talented kama'aina who graduate from high school and leave for college on the mainland. We encourage that. Traditionally, our aspiring professionals, looking to return home, were limited to jobs in banking, law and medicine. Hawai'i's budding startup ecosystem is now trying to encourage these enterprising kama'aina to return home by creating new entrepreneurial opportunities and jobs befitting their talents."
Dawn Lippert underscores the importance of being attuned to Hawai'i's cultural nuances to take full advantage of the current climate for startups. "To do business successfully in Hawai'i, you really need to understand the market and the culture and have trusted relationships with key decision makers. This is particularly important when you're trying to do something new and potentially risky. As entrepreneurs, we like risk. We find opportunity there, but this is a new way of thinking for Hawai'i."
The Full Article: http://thepacificedge.com/2014/11/20/hawaiis-startup-ecosystem-part-1/